Owner's One-Bedroom Suite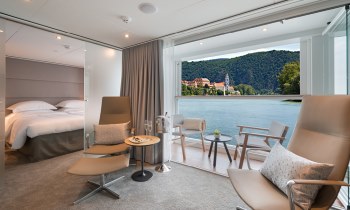 Category SA
Owner's One-bedroom Suites boast their very own bedroom which closes off from the rest of the cabin, a separate lounge area and a fantastic outdoor balcony complete with open-air system, allowing you to enjoy the views of your surroundings whatever the weather. These cabins also include a selection of special features, a spacious bathroom, a luxurious walkin closet, a complimentary Nespresso machine and a mini-bar restocked daily with wine, beer and soft drinks. So that you can keep up-to-date with the latest news, you'll have an iPad to use throughout your cruise. In order to offer you a more intimate dining experience, you can order continental breakfast, pre-dinner canapés and after-dinner sweet treats to enjoy in the privacy of your suite's lounge or outdoors on your balcony.
Grand Balcony Suite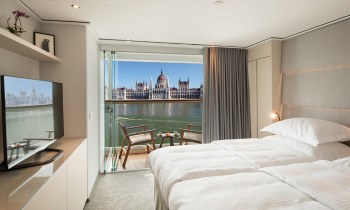 Category S
Each of the Grand Balcony Suites has a number of complimentary amenities, such as an in-suite Nespresso machine – an added home comfort that means that you can relax with a hot beverage at any time, day or night. You'll also have the option to order a delicious continental breakfast to enjoy on the balcony. And for the perfect start and finish to your evening meal, you can enjoy pre-dinner canapés and after-dinner sweets courtesy of your exclusive room service, which is included in the price of your suite. Grand Balcony Suites also offer a spacious outdoor balcony, allowing you to make the most of your cruise's beautiful landscapes and take in the fresh air. And should the weather take a turn for the worse, all it takes is the touch of a button and our state-of-the-art open-air system window rises from the balcony and encloses the area so that you can still sit out and admire the views, or unwind with a drink.
Emerald Panorama Balcony Suite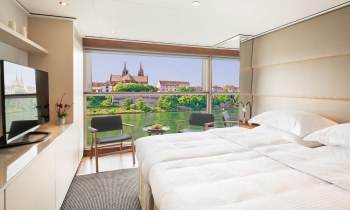 Category A (2018)
These spectacular suites boast our revolutionary indoor balcony design, complete with decking area, table and chairs – generating an entirely new space for you to enjoy the landscapes you pass. With the touch of a button, the upper part of the cabin's floor-to-ceiling window drops down to unveil uninterrupted views of the stunning scenery, opening up the cabin and bringing the outdoors in. In our Emerald Panorama Balcony Suites, you'll also find a mini-fridge – perfect for storing any gifts that need keeping cool, such as chocolates, confectionery, or special local drinks. You can use your mini-fridge to keep your complimentary bottled water cool, too.
---
Legend:

King size beds

Reception Desk

Single

Single Cabin

Sun Deck with Deck Chairs

Triple Occupancy Staterooms

Cabin with a Double Bed

Gate 1 Hospitality Desk

Navigation Bridge

Board Shop

Sky Barbecue

Triple Cabin

Hairdresser

Putting Green

Sky Barbecue

Games Area

Putting Green

Amadeus Club

Retractable Glass Roof

Walking Track

Daytime Pool & Bar / Evening Cinema

Golf Putting Green

The Terrace

Games Area

Horizon Bar and Lounge

Elevator

Reception

Retractable Glass Roof

Wellness Area

Fitness Area

Walking Track

Reflections Restaurant

Hairdresser

The Terrace

Daytime Pool & Bar / Evening Cinema

Horizon Bar and Lounge

Elevator

Reception

Wellness Area

Fitness Area

Reflections Restaurant

Hairdresser